Bypass valve
Jump to navigation
Jump to search
a.k.a. "BPV" or "DV" (Diverter Valve)
Valve which relieves charge pressure by venting air back into the ambient pressure intake tract.
Prevents turbo surge but preserves LTFTs, since measured air will still eventually enter the combustion chamber. Controlled by the N249 valve.
All street cars that use MAFs upstream of a charge pressure relief system should use BPVs rather than blow off valves.
Part #16 (034 145 710 B) below: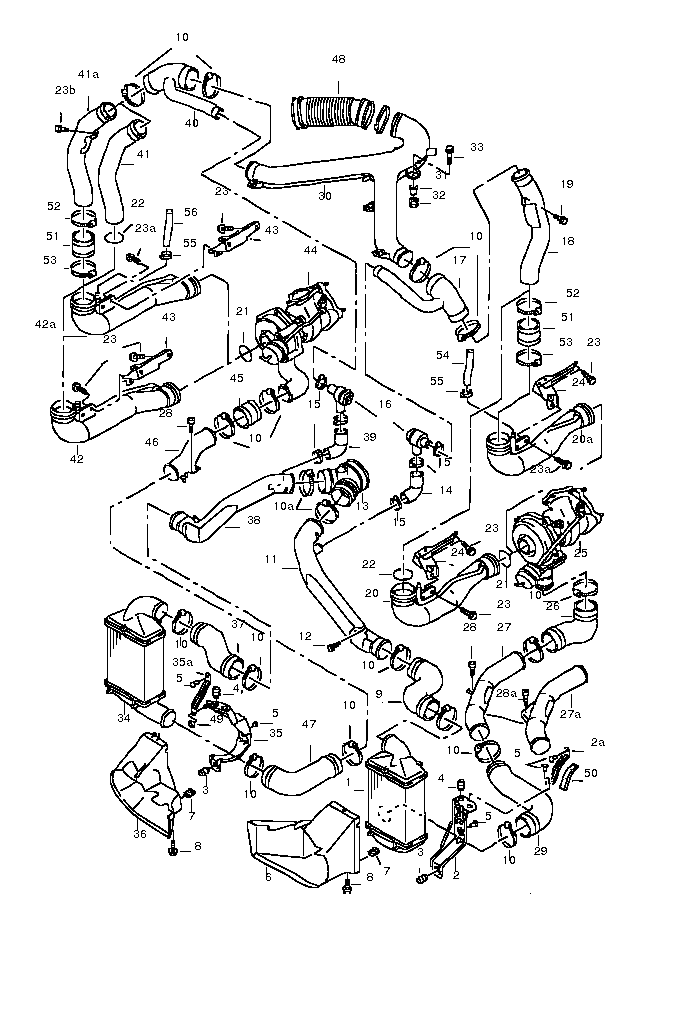 OEM valves
work in progress, part numbers needed, should reformat into table
Variants:
710 original (OEM for 2000 6MT S4, <2000 A4/TT/Passat)
710A 8.8lb spring (OEM for 2000 tiptronic S4, 2001 S4, <2002 A4/TT/Passat)
710B (OEM for 2001.5+ S4, S2?)
710C (OEM for Beetle?)
710G (14lb spring? some came in bags labled N?)
710H ?
710N 14lb spring (OEM for 2002 A4/TT)
710P (OEM for RS6). Has a reinforced silicone diaphragm, and has brass guides holding the sealing lip in alignment with the seat. The valve begins to open at ~ 6 in-HG vacuum.
possible part numbers(?):
06B-145-710A/B S4 2.7t
034-145-710A/B/C/N A4 1.8t, S2, Passat, Beetle
06A-145-710A/H/G/N/P TT 1.8t, RS6 4.2t
Vagcat lists Bosch 0280142108 as an alternative.
Orientation
Aftermarket valves
work in progress
Bailey
Hyperboost
Forge
GoFastBits